Yalong bay, also known as yalong bay national tourism resort, is located about 25 kilometers southeast of sanya city, hainan province, China. The center of yalong bay is a crescent shaped white sandy beach about 7000 meters long. The water in yalong bay is the cleanest of sanya's beaches. The water outside the beach is so clear that visibility can reach up to 10 meters, making it an ideal place for divers drawn to nearby coral reefs. Yalong bay has a mild climate throughout the year, with four distinct seasons and a long warm period. The annual average temperature is 25.5 degrees Celsius.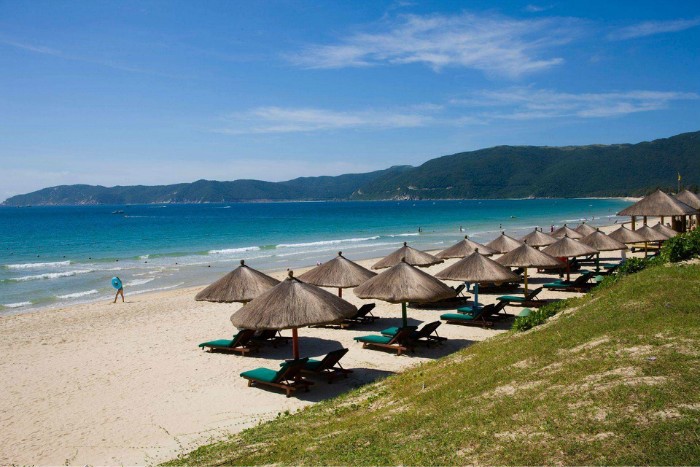 Yalong bay is a picturesque place with blue sky, warm sunshine, fresh and humid air, undulating green mountains, virgin forest, calm bay, clear water and colorful undersea landscape. In addition, along the coastline, there are numerous exotic flowers and wild tropical vegetation, and several resort hotels scattered in the area, like a bright pearl shining in yalong bay.
Known as sanya's first beach, the yalong bay national tourist resort is the premier destination for leisure vacations, offering travelers an irresistible combination of world-class beaches, outstanding swimming and diving, international resorts and top-notch golf facilities in an extraordinary package. It is home to many international five-star resorts in sanya.
The national tourist resort covers an area of 18.6 square kilometers. It is a seaside park integrating luxurious holiday villa, conference center, upscale hotel, submarine view, sea sports center, golf course, yacht club and so on.
The square is surrounded by mountains on three sides and faces the sea on the other. It's a great place for rock climbing and lots of water sports. There is a totem pole 27 meters high in the center of the square, which is the landmark of the square. There are also four pointed tents in the square, which look like four white sails.
Yalong bay tropical paradise forest park covers an area of 1506 hectares. This is the first forest park in sanya. Mountain climbing adventure, leisure activities, health holidays, folk culture experience. The park is called natural forest oxygen bar because of its high forest coverage.
Facebook Comments