Beer fish is a famous local specialty of yangshuo, the meat spicy and delicious, no fishy taste, very appetizing. It was picked from the big fresh carp of the li river, Fried in camellia oil and stewed in high-quality beer from guilin. Its unique crispiness makes it famous in the world.
As a delicacy in yangshuo, it was originally introduced from several stalls. However, a large number of restaurants occupy the county, especially yangshuo's west street, a famous place where a variety of delicacies gather. Many restaurants in yangshuo have such snacks, which are attractive to the owners and delicious to the diners.
This is a unique food, once moved to other places, the original local flavor will have a different taste. Therefore, only in yangshuo can diners enjoy the color, aroma, alcohol and taste of beer fish. That's why beer and fish have become part of yangshuo's culinary landscape.
Generally speaking, beer fish is hot and foreign tourists are not accustomed to it but, if you can tolerate the heat, you should try it.
There are a number of advertisements for beer fish around the streets in Yangshuo, which can match the beer fish served in the restaurants. According to the comments of Trip Advisor's customers, Meijie Yangshuo Beer Fish (梅姐啤酒鱼) is a good choice (Location: It is located in the food square, which is 50 meters away from West Street and 300 meters from Li River Harbor and has an elegant environment with a peaceful scenery).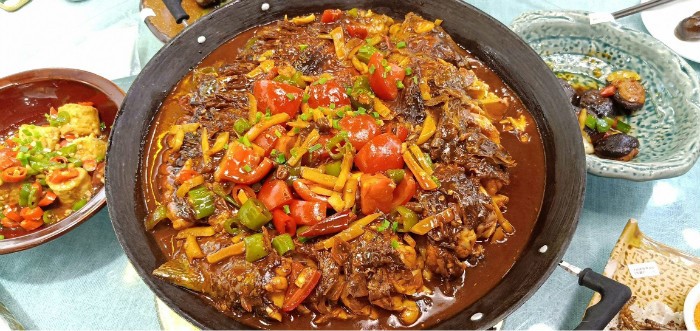 Facebook Comments