Ningbo's traditional dessert, laba festival food. Made from glutinous rice, bean paste, jujube paste, preserved fruit, lotus heart, rice kernel, longan, sugar, suet and other raw materials. Glutinous rice filling in yiqi, cowpea "kidney beans" said; Jujube paste has the effect of harmonizing all kinds of medicines, which is of great benefit to people's health and longevity. Lotus heart has the effect of strengthening the heart, rice kernel has the effect of strengthening the spleen and filling the lung, longan is known to have the role of filling the middle Qi.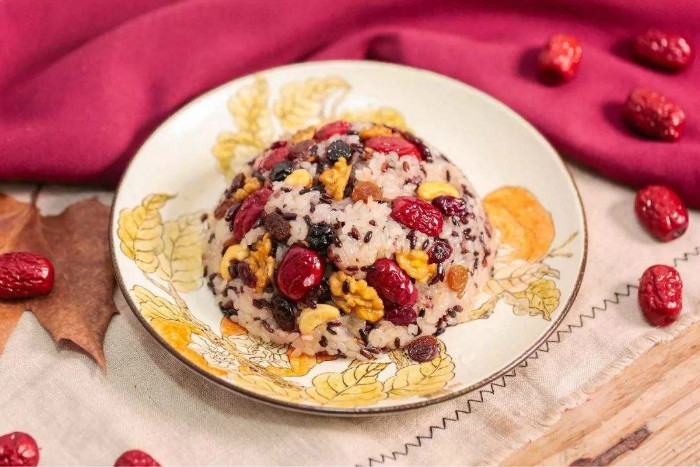 How to Make It
Wash the rice and soak in a bowl for 50 minutes. Drain the rice and put it in the rice cooker. Add two cups of water.
Cook the rice according to the manufacturer's instructions for about 20 minutes. Place the rice in a large bowl and let cool for 2 minutes. Stir in the sugar and butter.
Wash the dates and soak in a bowl of warm water for 30 minutes. Drain the jujubes, cut them in half and remove the seeds.
Combine the red bean paste and walnuts in a bowl.
Pour vegetable oil into a shallow bowl. Place the pineapple rings on the bottom and fill them with pumpkin seeds and peanuts. Arrange dates and oranges around the pineapple ring to form a sunny pattern. Place 1/2 of the rice in a bowl and press flat. Spread the red bean paste mixture evenly over the top. Put the rest of the rice in the bowl flat.
Place the bowl in a steamer, cover and steam over medium-high heat for 25 minutes. Remove from heat and let cool for 5 minutes. Draw a knife over the edge of the rice. Put the plate on top, turn it over and remove the bowl.
Facebook Comments