The Zhuang Nationality Song Festival, also known as Gexu Festival and Gepo Festival, is held in the third day of the third month of the Chinese lunar year. On this day, the Zhuang people all head to a certain place to sing songs together.
It is a festival celebrated by the Zhuang Minority in two separate parts: day and night. The daytime celebrations consist chiefly of singing matches in the fields, and the main nighttime events include singing production songs, seasonal songs, historical songs, and pan songs (盘 for seven female singers and two violas).Guangxi Zhuang Autonomous Region Government has been developing the Zhuang Nationality Song Festival as a regional culture and art festival.
The zhuang folk song festival originated from the festival of sacrifices and folk songs and dances in the time of the clan. With the development of the society, the sacrificial activities gradually fade out of people's life. Now the sacrificial activities mainly communicate through singing. These songs are not only the media of zhuang culture inheritance, but also the collection of zhuang men and women's happy love stories. This festival is important for every zhuang and their families.
There are many romantic legends about the Zhuang Nationality Song Festival.
One of the most popular is "singing competition for son-in-law". Once upon a time there was a beautiful girl who was very good at singing. Her father, an old singer, wanted to choose a young man who was good at singing as his son-in-law. Young people come from different places, gather in a particular place, and compete with their singing skills. Thus formed the singing festival.
The most romantic is the love story of liu sanjie and a cow. Liu sanjie is a beautiful girl.
She can sing very well and she is honest. One day, when liu sanjie was collecting firewood on a mountain, the landlord cut off the vines and she fell off the cliff. Luckily, liu sanjie didn't die. She met a girl. When they got engaged under the big banyan tree in yangshuo, liu sanjie threw an embroidered love ball to the cow. Hence, the famous love song "vine and tree" spread.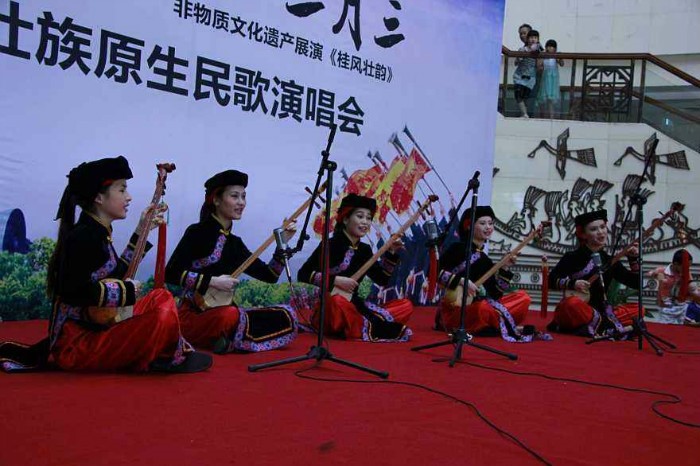 Facebook Comments