Zhangjiajie Grand Canyon is located in sanguansi Township, Cili County, Zhangjiajie City, close to the world natural heritage and the World Geopark, Wulingyuan scenic area, Zhangjiajie. Zhangjiajie Grand Canyon is a newly developed tourist attraction. In 2011, it successfully established AAAA level scenic spot.
In this tourist spot, you can even try the longawaited world longest and highest glass bridge that is regarded as the "12 Most Spectacular Bridges in the World" by CNN to be a bold one and admire the panoramic view of Zhangjiajie Grand Canyon with green forests, waterfalls, streams, etc. Moreover, you will be dazzled with the multiple types of waters and lush plants that form a heaven on earth and will drive all your annoyance far away.
Zhangjiajie Glass Bridge — World's Longest and Highest
Also known as yuntiandu glass bridge, it is located in Tujia Township, sanguansi, Cili County, Zhangjiajie City, Hunan Province, China. It is one of the important scenic spots in Zhangjiajie Grand Canyon Scenic Area. Zhangjiajie Glass Bridge is the world's longest and highest glass-bottomed bridge spanning over two mountains in Zhangjiajie Grand Canyon.It is a must-see attraction if you want to experience something exciting in China.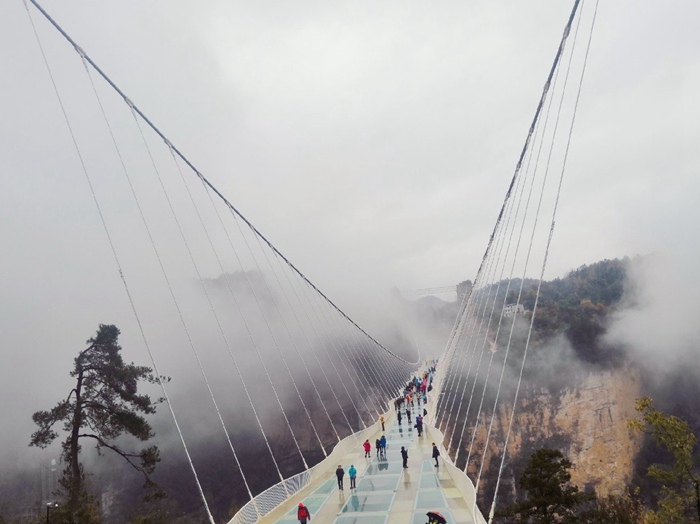 Visit the zhangjiajie grand canyon and have a new experience on the glass-bottomed bridge overlooking the verdant landscape of the transparent glass floor. The zhangjiajie glass bridge has been named as "the 12 most spectacular Bridges in the world" by CNN. Therefore, many tourists want to go to zhangjiajie grand canyon to see the magnificent bridge and walk on it. After rigorous tests and tests, the zhangjiajie glass bridge was finally opened to traffic on August 1, 2016, and has been given another name "yuntiandu", meaning "people under heaven". Standing in zhangjiajie is full transparent glass stones glass bridge, you can easily feel the pressure and fear, but have nothing to fear, because you will be touched by his great courage, you can see below 400 metres of silver streams and green valley, the blue sky and reflect on the bottom of the glass of milk white cloud, will give you add more magic and mystery to walk where your confusion is walking on the clouds, or walk in zhangjiajie grand canyon on the lush plants.
What's more, in the middle of the bridge, you can enjoy the highest bungee jump in the world. Imagine flying through a vast canyon, under a clear sky and soft clouds, in a haze. Do you want to realize your dream of flying like spiderman or some other hero? Let's go to zhangjiajie grand canyon.
Because the stunning but charming bridge is so sought-after, it has long been anticipated by many people both at home and abroad, with canyon officials setting a daily limit of 8,000 people, up to 600, to visit the bridge each time. If you want to try something new in zhangjiajie grand canyon, it is recommended that you book your flight at least three days in advance.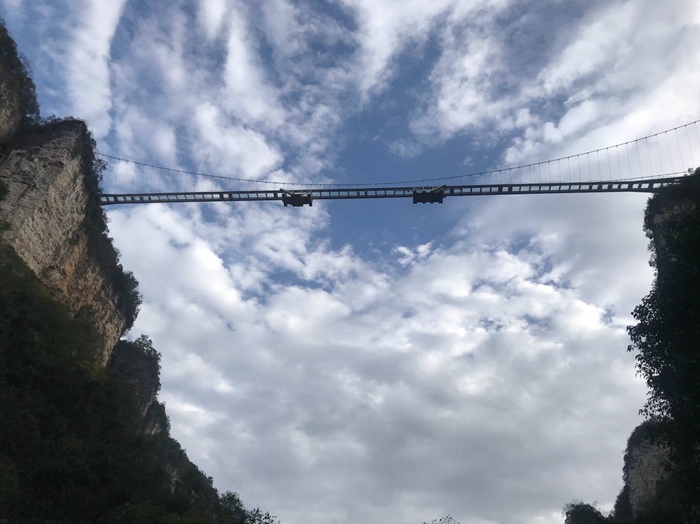 Facebook Comments