In addition to the most basic function of sunshade, the traditional paper umbrella has many other USES, which are deeply rooted in Chinese traditional culture. The Chinese paper umbrella originated in China and has been developed and popularized in several Asian countries over the years, but the Chinese paper umbrella is colorful, almost like gauze, and still has typical Chinese characteristics like chopsticks.
Although the foldable Chinese paper umbrella is thought to have existed at the beginning of the Christian era, the first historical reference to the Chinese paper umbrella comes from 21 AD, referring to a four-wheeled "chariot" of paper umbrellas by emperor wang mang (royal officials of the han dynasty usurped the throne in a short period — often referred to as the wang mang transitional period — creating the short-lived xin dynasty.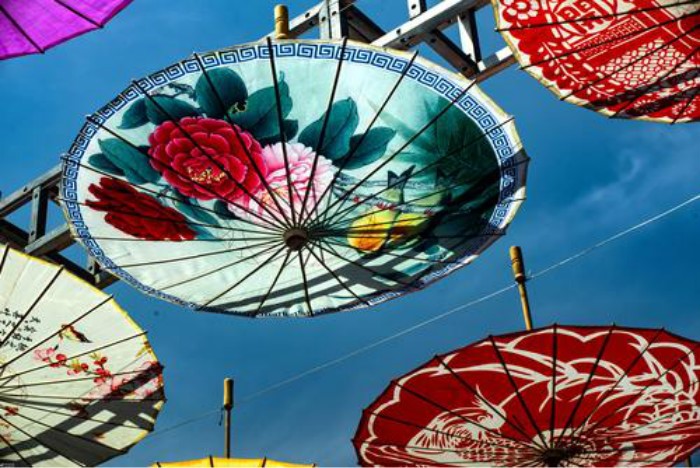 Although it only consists of five parts, the production of Chinese paper umbrella involves 80 working processes to complete the finished product. In this sense, the craft of Chinese paper umbrella can be compared with Japanese lacquer art.
A typical Chinese umbrella is made of two materials: silk or paper. Silk umbrellas are the most expensive and considered to be the most delicate, but also the most difficult to fashion and maintain. Paper umbrellas are easier to make, can be treated with oil to make them impermeable, or waterproof, and they are perfect for art deco. Most paper umbrellas produced today are made from sticky tung oil (also known as Chinese wood oil, derived from the euphorbiaceae tung tree found throughout central Asia). The main producing areas of China's impermeable paper umbrellas are fujian and hunan.
The decorations range from solid colors to flower-and-bird paintings, flower-and-bird paintings, landscapes, and calligraphy. As one of the highlights of Chinese paper umbrella, a lot of work has been devoted to the art decoration of paper umbrella. In addition to waterproof, paper curtain still needs to withstand the destruction of wind and rain, like its decoration can resist the fading over time.
Facebook Comments