Longhu mountain, located 20 kilometers southwest of Yingtan city, Jiangxi province. In the middle of the eastern Han dynasty, Zhang Daoling, the founder of the company, had alchemy here. Tianmen mountain is the highest, with an elevation of 1,300 meters. Longhushan is China's eighth world natural heritage site, a world geological park, a national AAAAA tourist attraction, and a national key cultural relic protection site.
Longhu mountain, a typical danxia landform in China, is the birthplace of Taoism in China and was added to the world geopark network in 2007. The danxia landform of Longhu mountain is two danxia mountains formed by hong-alluvial fan red conglomerate in continental foothill of late cretaceous in the south margin of xinjiang basin in southeast China.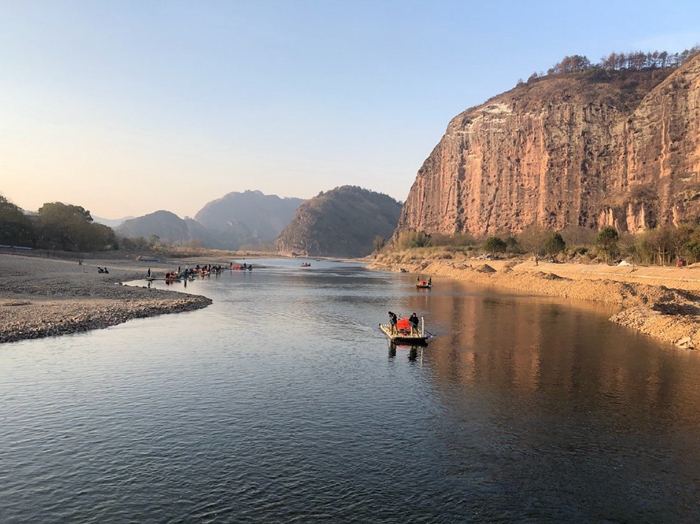 According to Taoist records, Zhang Sheng, the fourth grandson of Zhang Ling, settled in Longhu mountain during The Three Kingdoms or the western Jin dynasty.
Most scenic spots spreading by westshore of Luxi River are easy to reach by tour bus. The essence Longhu Mountain tour departs from tourist center and get to Trunk Mountain ( a typical Danxia Landform spot of Longhu Mountain Geopark – like a giant stone elephant is wicking) firstly, then following sightseeing goes to the activities you may interested in, like the Hanging Coffins Performance in Peach Sandbank near South Gate of Trunk Mountain. Later you can take the Bamboo Rafting to enjoy natural scenery on the river banks, including No Mosquito Village , Mushroom Rock, Lotus Stone, Old Man Peak and etc. Sihan Taoist Master Mansion sacred Taoist site to honor the god and served as residence of Taoist Masters, about 1km to Great Shangqing Palace), Shangqing Ancient Town (old town with over 1000 years history) and Great Shangqing Palace  are the highlights in the peak of Longhu Mountain tour.
Facebook Comments