Sanhe town, 32 kilometers from hefei, is a typical water town in the lower reaches of the Yangtze river with a history of more than 2,500 years. "Three rivers" means three rivers. It is named because fengle, hangfu and xiaonan are three rivers that flow through it. The town covers 2.9 square kilometers (717 acres) and is filled with buildings from the Ming and qing dynasties. White walls, grey roofs, red pillars and streets paved with bluestone reveal a beautiful painting for all visitors. Major attractions in the city include: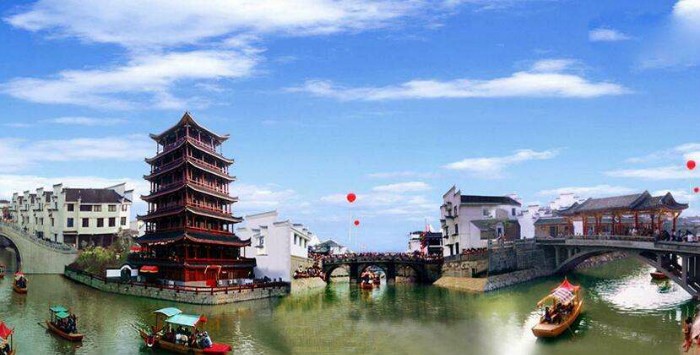 Sanhe ancient town is the largest wharf in the area and a very prosperous commercial site in ancient times. There are many big shops in the town, of which the liu brothers' tongxinglong store is one. It was run by two brothers of the liu family and traded rice, cloth and salt. "With prosperity" three words, means family harmony, business prosperity. There are 32 rooms, 5 courtyards and 8 wing rooms. The first courtyard had a two-story cabin; Second, typical southern architecture; The third is the hall where the host receives guests; The fourth is the incense house, where the master worships his ancestors; The fifth is a 700 square metre (837 square yards) house.
The mansion was the private residence of government officials during the Ming and qing dynasties. "Da fu" was a high official position in ancient times. The residence features traditional Chinese furniture and decor, including a plaque by zhu feng, a cherry-wood table for senior officials, mahogany round back chairs, mahogany round back chairs, the cabinet of machilus, phoebe Babu bed and old portraits of early qing China (1644-1911).
Yang zhenning is a famous Chinese scientist who won the 1957 Nobel Prize in physics. His mother, who was born in the ancient town of sanhe, returned with him in 1937 to escape the war. Mr. Yang sought knowledge here. Today, some precious pictures and documents are on display in the former residence of Yang zhenning.
Facebook Comments