Emeishan is located in the southwest edge of sichuan basin, 190 kilometers from chengdu city, is an ancient city with rich culture and a long history of more than 1,400 years. It is named after the world-famous Emeishan. Emeishan is one of the four famous buddhist mountains in China. In 1996, it was listed as a world cultural and natural heritage site by UNESCO. Emeishan is known as the "kingdom of plants", "animal paradise" and "national AAAA scenic spot" because of its rich in rare plants and animals, such as monkeys, sunrise, sea of clouds, Buddha light and other eye-catching sightseeing landscape. A long time ago, Emeishan attracted countless tourists to the tourist city to enjoy the beautiful scenery.
Emeishani is a world famous buddhist mountain, Emeishan has a rich buddhist culture, along the way there are countless buddhist temples, living in groups of monks. Emeishani is more than 3,000 meters above sea level. The scenery of sunrise, sea of clouds, Buddha light, red leaves and azalea flowers is very beautiful.
The environment of Emeishan is fertile and there are many kinds of animals.Mount emei visitors can have fun in a variety of interesting activities, the most special of which are hiking, pilgrimage, photography, soaking in hot springs, skiing, watching monkeys, cuckoos and so on. As a sacred Buddhist mountain for more than 1,400 years, there are a series of charming attractions in Emeishan for tourists to discover. In Mount Emei, the Golden Summit, Wannian Temple, Qingyin Pavilion, and Baoguo Temple are the most special spots that you should not miss.
The Golden Summit is the essence of Mount Emei for it enjoys the exquisite giant gold statue of Samantabhadra Bodhisattva, which is 48 m high and designed with delicate patterns. As the highest peak of the mountain, it is the best place to appreciate the rare scenery, namely, the Sunrise, Sunset, Cloud Sea, Light of Buddha, etc.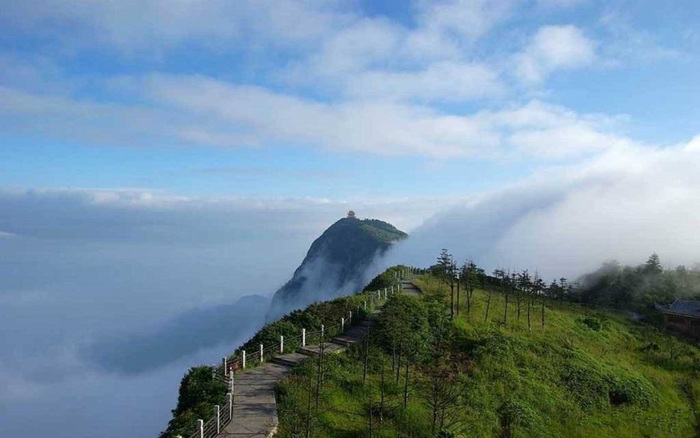 Facebook Comments