Leshan Giant Buddha scenic spot is located in the outskirts of leshan, at the confluence of minjiang river, dadu river and qingyi river.
The scenic spot covers an area of 17.88 square kilometers, facing leshan city across the river. It is located in the middle of lingyun mountain. The mountains are lush with forests and bamboos all year round, and the three rivers under the mountain converge to enjoy the reputation of the crown of mountains and rivers in southwest China, which has been praised by scholars and writers in past dynasties.
How Big Is It
The solemn Leshan Giant Buddha is calmly sitting on the cliff of Xijiao Hill, putting his hands on his knees, with the rivers flowing below his feet…Standing 71 meters tall, Da Fo is the tallest Buddha statue in the world. His head is 14.7 meters in height and 10 meters in width. The Buddha's hair is arranged in special spiraled curls with 1,021 twists that have been skillfully embedded in the head.
He has 7-meter long ears which is capable of holding two people inside, 5.6-meter long nose, 5.6-meter long eyebrow. While, the width of mouth and eye is 3.3 meters. His neck is 3 meters tall, shoulder is 24 meters wide, finger is 8.3 meters long. It is 28 meters from his knees to his instep. Moreover, his instep is about 8.5 meters in width where can accommodate about a hundred people and even his smallest toenail can accommodate a seated person.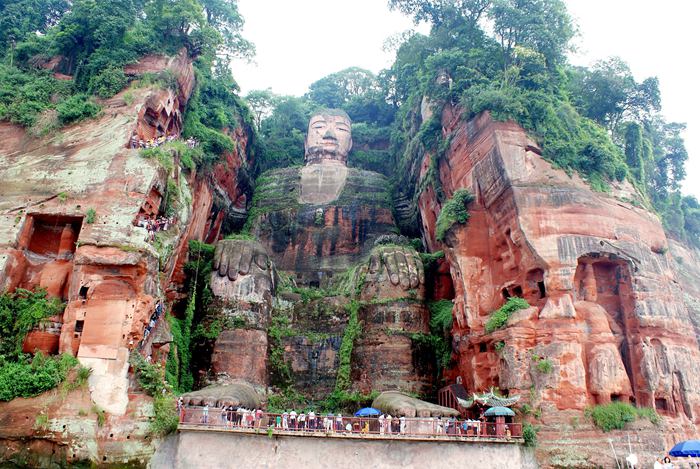 The History of Leshan Giant Buddha
The construction of Big Buddha was the idea of a Chinese monk called Haitong, who hoped that Buddha would calm the turbulent waters (Min River, Qingyi River and Dudu River) that plagued the shipping vessels traveling down the river. His plan is based on science – the enormous amount rubble carved away from the cliff would be deposited in the river, altering the currents and calming the waters.
He want to many places to raise the money and when he got back to begin the construction, the local government came and threatened. Haitong is said to have gouged out his own eyes to show his piety and sincerity.
Hence, Leshan Giant Buddha was first constructed in the year of 713 AD in Tang Dynasty. Haitong passed away when the Big Buddha was cultivated to shoulders and the construction was stuck due to insufficient funding. Many years later, a Sichuan Jiedushi sponsored and Haitong's disciple began to continue. In the year of 803 in Tang Dynasty, Leshan Giant Buddha was finally finished under the hard work by three generation of craftsmen for 90 years. Till now, this engineering masterpiece has a history over 1300 years.
Facebook Comments