Moon mountain is located at the southern end of the famous Shili gallery in Yangshuo, about 1 km south of the big banyan tree. The 380m high moon mountain is famous for its naturally formed moon cave at the top. When you look up at the magnificent Karst mountains to the right of the ten-mile gallery, you will find a wonderful "moon" embedded in the top of the mountain, that is the moon mountain. The length and width of the "moon-shaped cave" in moon mountain were measured, which were about 50 meters respectively. The moon is formed under the influence of wind and rain every year. As you approach moon mountain, you will see the moon gradually change from a new, half-moon to a full moon. Once you climb to the top of the mountain, you will see the vast landscape of Yangshuo county, with its lush trees and breathtaking karst formations.
Moon mountain has always been one of the most popular attractions in Yangshuo. It is the landmark of Yangshuo and worth a visit. So, how to visit this fascinating place? What's the best way to see the moon? Here are 3 ways that work best for you — hiking, climbing, and taking photos in Li cun. Hiking gives you a chance to see the moon up close. Risky rock climbing gives you an amazing sense of challenge. Free walking and photo taking in the village of li, opposite moon mountain, offers a unique opportunity to enjoy the "changing moon".
The mountain is lush with vegetation all year round, and the scenery around it is attractive almost all the time. So you can plan your moon mountain tour at any time as you like. However, for tourists who want to explore Yangshuo in depth, you should visit Yangshuo in summer and autumn, as well as moon mountain. Summer and autumn are not only the best season to visit the moon mountain, but also the best season to visit the li river and the Yulong river.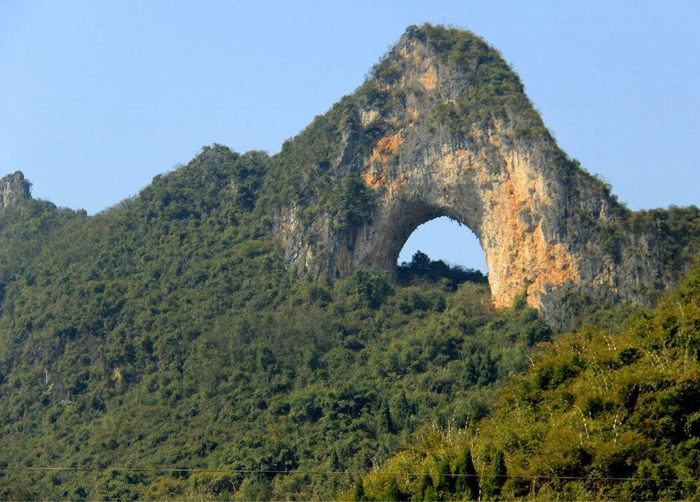 Facebook Comments