Shanghai tower is located in Lujiazui finance and trade zone, Pudong. It is the tallest building in China, second only to the world. It covers an area of 30,368 square meters, with a construction area of about 576,000 square meters, including 5 floors of basement, 127 floors above ground and 5 floors of podium.
For visitors, a visit to the Shanghai tower would be incomplete without the world's highest indoor observation deck, the "top of the Shanghai observatory." From this height, you can enjoy a unique panorama of the Huangpu river, the bund to the west, and several other skyscrapers, such as the Jinmao tower and the world financial center on the east bank. Visitors are advised to visit the B1 exhibition hall and then take the express elevator to the 118th floor, which only takes 55 seconds. Finally, if time permits, visit the exhibition "Shanghai eye" on the 125th and 126th floors.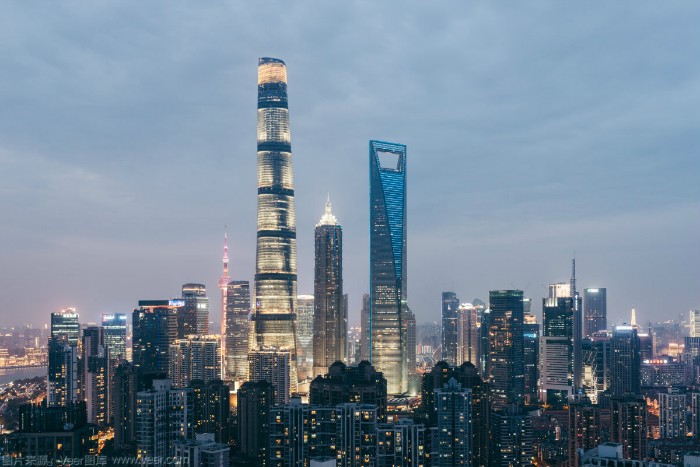 The skyscraper's foundation is important because Shanghai is located in an inactive seismic zone and the construction site is in the Yangtze river valley. To reinforce the ground, engineers first placed 980 foundation piles 86 meters  underground, then poured 61,000 cubic meters  of concrete to install a 6-meter floor to secure the main building.
The outside of the building spiraled like a snake. Each floor rotates by one degree to counteract the force of the wind high above. This is very important for super tall buildings in Shanghai to withstand frequent typhoons.
The tower has two glass facades, one inside and one outside, like overlapping "pipes". The space between the two "pipes" is from 1 to 10 meters wide, providing more public space inside the building. At the same time, the space is like an insulating layer, like a vacuum flask. It's environmentally friendly and it costs less.
As a complex super-tall building, the building is subdivided into five main functional areas: 24-hour offices for multinational corporations and financial services; Super five-star hotel and supporting facilities, providing personalized services and supporting facilities; High-end retail stores, etc. The leisure and entertainment area, which forms a new commercial and cultural center in the city, is obviously different from the ghost town image of lujiazui after work. Conference facilities, including sightseeing rooms on the upper level, a multi-purpose convention center of more than 2,000 square meters, and a multi-purpose banquet hall of more than 1,000 square meters are located in the podium building.
Facebook Comments