Shaoshan, a county-level city in xiangtan, hunan province, is the hometown of chairman MAO zedong, who was born here and carried out his revolutionary activities in his youth. Because of its unique natural environment and history, it has become a famous scenic spot and is regarded as a shrine to commemorate the Chinese revolution. There are four main scenic spots: the former residence of MAO zedong, the dripping water cave, shaoshan peak and the clear stream.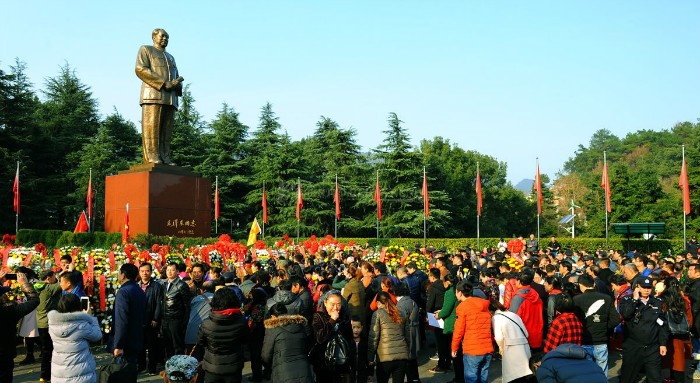 Attractions in the area depict MAO zedong's former home and provide historical information about him. These include the former residence, memorial hall, memorial park, MAO zedong bronze statue square, cultural relics museum, library and MAO zedong memorial hall.
Chairman MAO's former residence covers an area of nearly 473 square meters (566 square yards) and is made of mud and wood. It is concave and has 13 rooms. The house is decorated with photos of the maos, daily necessities and farm tools such as buckets, carrying poles and hoes. The exhibition center at MAO zedong's former residence, built in 1964, houses photos and materials of MAO zedong's revolution.
Built in 1963, the museum was restored in 2003 to commemorate MAO's 110th birthday. There are 12 exhibition halls, eight of which show MAO's achievements in his life, and the other four are special exhibitions. The memorial park features replicas of various china tour sites that reflect MAO zedong's life; As MAO haoguan studied at hunan first normal university for four years, nanhu had a ship at the first meeting of the communist party of China, and caves and the yan 'an pagodas (sacred land for shaanxi's urban revolution). The memorial is the most magnificent building in the park. It shows introductions of the great leader at different times, as well as white marble statues of MAO and six other members of his family.
Built in 2008, the bronze statue square covers an area of 102,800 square meters (about 122,948 square yards). It is divided into worship area, memorial area, assembly area and leisure area. The statue weighs 3.7 tons (3,700 kilograms) and is 6 meters (19.7 feet) tall. The overall height of the statue, including the bronze base, is 10.1 meters (about 33 feet), symbolizing the date of the founding of the People's Republic of China — October 1. The statue gives a vivid picture of MAO's gentility, his eyes flashing and his smile beaming.
MAO zedong cultural relics museum is divided into three areas; Basic exhibition hall, special exhibition hall, temporary exhibition hall. The main exhibits are his used China, records and tapes, as well as some masterpieces of art. The library was built in 1993 to celebrate the 100th anniversary of MAO zedong's birth. It is the only library in China named after chairman MAO. The collection contains more than 120,000 pieces of literature, including newspapers and periodicals read by MAO, manuscripts and various China family tour books published at home and abroad, as well as works and monographs on MAO's thoughts.
Facebook Comments