Liuhe pagoda is a representative of ancient Chinese pavilion architecture. It is located on yuelun mountain south of the west lake, facing the qiantang river. It is one of the three famous pagodas in hangzhou, the other two around the west lake, the baozhu pagoda and the leifeng pagoda. Because of its height and special location, the liuhe tower is one of the best places to watch the spectacular qiantang river tides. In addition, there is an ancient Chinese pagoda garden nearby, displaying miniature models of famous pagodas from all over the country.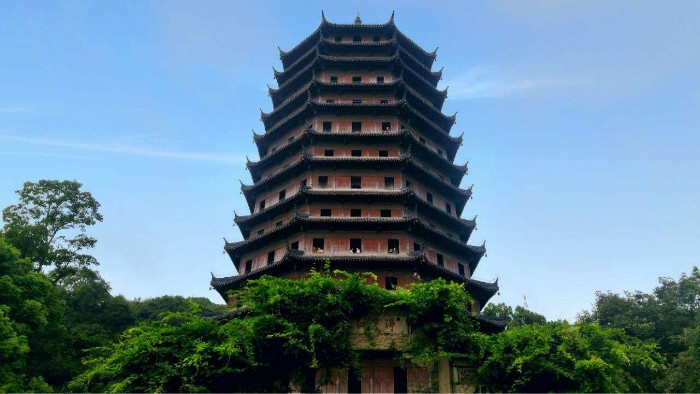 The liuhe tower is an octagonal structure with a height of 59.89 meters (196.49 feet). From the outside, the tower has 13 stories, with 104 iron bells hanging in every corner of the eaves. Because of this magnificent appearance, locals believe it is a brave general standing by the qiantang river. However, if you go into the pagoda, you will find that there are only seven floors inside. A spiral staircase was built inside the tower, leading to the top floor. Each floor of the pagoda consists of four parts: the outer wall, the circular corridor, the inner wall and a small room. These rooms are dedicated to Buddha statues. Through the Windows of the outer walls, visitors can enjoy a beautiful view over the vast qiantang river and the majestic qiantang river bridge. There are many exquisite brick carvings in the tower, with different themes, such as pomegranate, lotus, phoenix, peacock, lion, unicorn and so on.
The beautiful pavilion is known as the wonder of the world, and the qiantang river tide is a masterpiece of nature. Located on the northern bank of the Yangtze river, the liuhe pagoda has been considered the best place to enjoy spectacular scenery since the southern song dynasty (420-589). The scene is even more spectacular around the Mid-Autumn festival. Every year, the area around the liuhe tower is crowded at this time of year. Seen from the top of the tower, the mighty waves of the qiantang river are breathtaking.
Visitors can enjoy the different styles of ancient Chinese pagodas in the park. With an area of 6,689 square meters (8,000 square yards), there are about 100 microstates of famous ancient pagodas with a ratio of 1:10, including wooden pagodas to shanxi county white pagoda of beihai park in Beijing, Songyue pagoda in henan province, big wild goose pagoda and small wild goose pagoda in xi 'an.
Facebook Comments