Three lanes and seven lanes are the only remaining old city in fuzhou. It has preserved more than 200 ancient dwellings from the Ming and qing dynasties, known as the "museum of Ming and qing architecture". Many scholars have lived here since the jin dynasty. Therefore, three lanes and seven lanes are also known as the historical and cultural origin of fuzhou.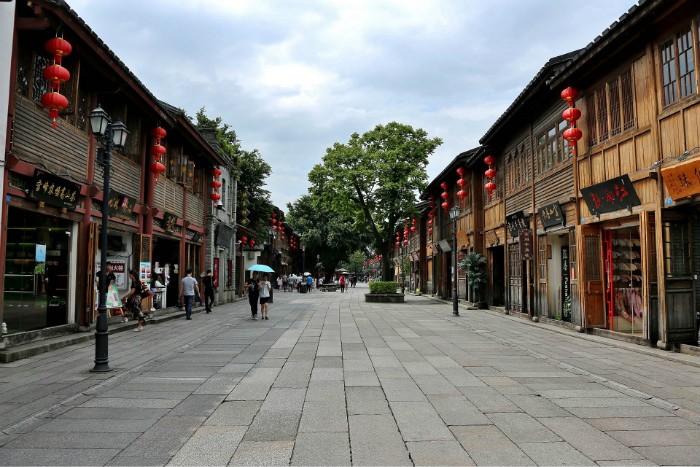 The three lanes and seven lanes are composed of three lanes and seven lanes and nanhou street. Three lanes, including yijin lane, wenru lane and guanglu lane, are located to the west of nam ho street. The seventh lane is located on the east side of nanhou street, which is yangqiao lane, langguan lane, taxiang, huangxiang, anmin lane, gongxiang and jibi lane.
Nanhou street is the central axis of three lanes and seven lanes, about 1000 meters (1095 yards) long. Besides, this is a commercial street, people can buy the daily necessities they want. What's more, bookstores, painting shops and lantern markets for Chinese festivals are scattered here. The former residence of ye zaiqi, a famous scholar in qing dynasty, is located on the south side of nanhou street. Facing south, it is a mixture of Ming, qing and republic of China (1912-1949) styles.
One jin fang is the first lane of three lanes and seven lanes. The most unique building here is the waterside stage. It is a single-story wooden terrace facing an attic. The interior roof of the stage is carved with cranes in the middle and bats around, symbolizing happiness and longevity. The stage is square, 35 square yards (29 square meters), with a pond filled with water below.
Wenru lane is famous for the celebrities who once lived there, including generals, scholars, poets, jurists and the emperor's teachers. You's wenru lane meeting room is the representative of all the meeting rooms in qing dynasty. Today, the house is known as the fuzhou boat culture center. There are more than ten models of the fuzhou ship on display.
Guanglu intoning terrace, the most famous scenic spot in guanglu lane, has a beautiful pond, a pavilion, flowers, trees and a cliff edge inscription. There are also some other ancient buildings in guanglu lane, such as the courtyard of the liu family, the high wall of the morning lift road, and the pavilion on the bridge. They all have the characteristics of Ming and qing architecture.
Facebook Comments