Tientsin Eye, also known as the Tianjin Eye, is a Ferris wheel as tall as 120 meters. Tianjin Eye is also the No. 1 Ferris wheel in Asia, the only Ferris wheel built above a bridge and the tenth tallest Ferris wheel in the world. You can ride Tianjin Eye to enjoy the scenery of Tianjin or appreciate Tianjin Eye from afar on Jingang Bridge which is also enjoyable.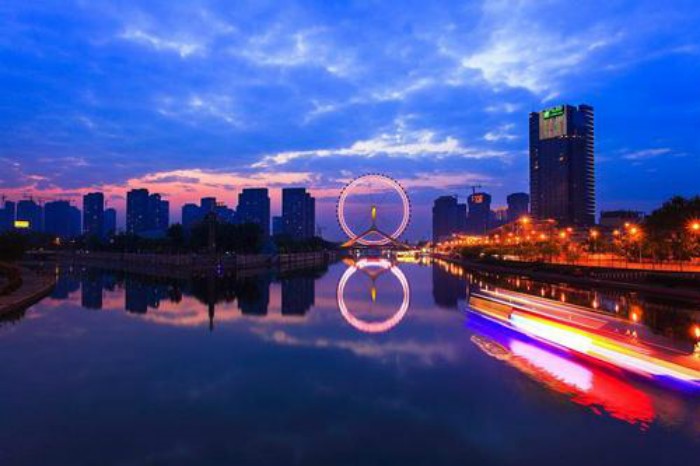 Tianjin eye is a national 4A level scenic spot in Hebei District of Tianjin (funded by the government of Hebei District of Tianjin). It is the first Ferris wheel in Asia. It is a Ferris wheel with river crossing construction and bridge wheel integration. It has both sightseeing and transportation functions.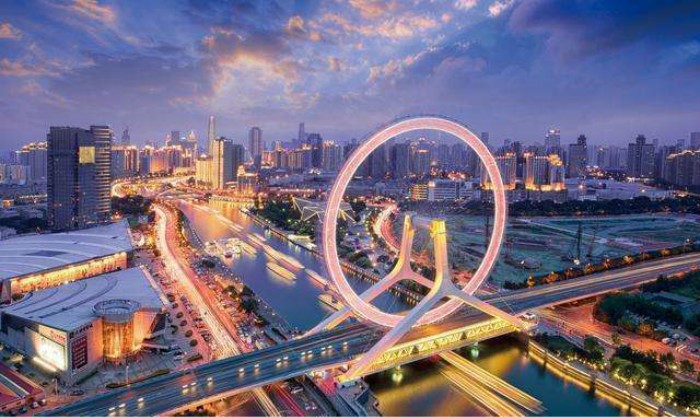 Except for riding Ferris wheel, looking at Tianjin Eye from afar and taking photos are also good choices. This Ferris wheel is like an eye when looking from afar and this is how Tianjin Eye is named. The best place for that is Jingang Bridge, about 800 meters (900 yards) south of Tientsin Eye. When standing on the bridge, Tianjin Eye surrounded by beautiful buildings on the bank of Hai River appears before your eyes. It's best to come at night when Tianjin Eye and Hai River interact with each other under the illumination of lights and you can see a totally different Tianjin here.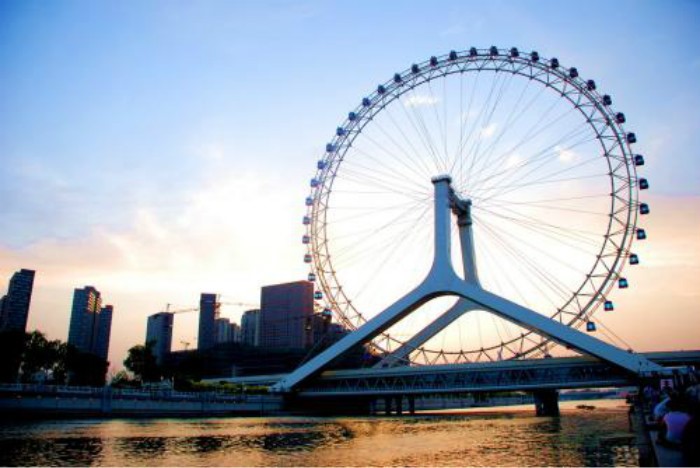 The ferris wheel is equipped with 48 transparent cockpits, each of which can hold 8 people. There are air conditioners and fans in the cabin to adjust the temperature, which can be used for 384 people to visit at the same time. The time when the ferris wheel rotates for one circle will be affected by the number of passengers and the weather change, and it will be kept between 20 and 40 minutes. Each cabin of the ferris wheel of Yongle bridge in Tianjin covers an area of about 12 square meters, which can be used by 8 people at the same time. It is understood that 48 cockpits will rotate at a constant speed driven by electric power, and it will take about 30 minutes to rotate a circle. It can be used for 300-400 people to visit at the same time. The diameter of the ferris wheel is 110 meters, so the technical content of its rotating shaft is very high. The rotating shaft of Tianjin eye is made in Germany. The ferris wheel has passed the strength tests of compression resistance, seepage resistance, bending resistance and frost resistance.
Facebook Comments