Zhujiajiao water town, is located in Qingpu district, Shanghai. Covering 47 square kilometers (11,614 acres), the fan-shaped town is known as the Venice of Shanghai, shining in the mountains and lakes.
Zhujiajiao water town is the best preserved of the four ancient towns in Shanghai, known as "pearl river". Unique old Bridges cross a babbling stream, which is shaded by willows, and houses with courtyards bring people living in modern cities into a new world of antiquity, leisure and tranquility.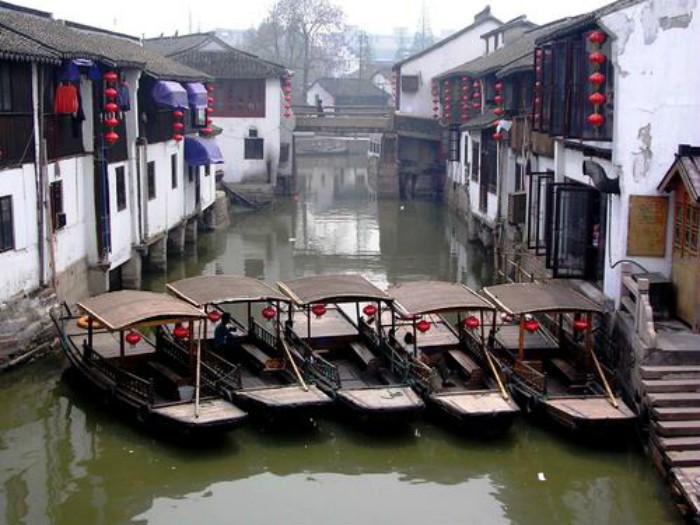 It is said that if you go to Zhujiajiao without seeing the bridge, you have never been to Zhujiajiao! The bridge here is very distinctive and ancient, built in the Ming and Qing dynasties. The ancient town of Zhujiajiao is connected by 36 elaborate spans of different shapes and styles, from wood to stone to marble.
The bridge is the longest, largest and highest stone bridge in Shanghai. The bridge was built in 1571. On the bridge stands a stone tablet named "longmen stone", on which is engraved "eight dragons around the pearl". There are four lifelike stone lions on the bridge.
In the water town of Zhujiajiao, there is an ancient street full of representative ancient buildings in the Ming and qing dynasties, which attracts a large number of tourists from home and abroad. That is north street, the best preserved old street in this suburb. The whole street is only one kilometer long, which is both simple and elegant. Strolling along this ancient thoroughfare, it is another treat to admire the historic buildings, historic shops, ancient Bridges and many narrow alleys.
Zhujiajiao water town has magnificent gardens and ancient dwellings in the Ming and qing dynasties. Among the ancient buildings, kezhiyuan is the largest manor garden. The garden is often referred to as the "markov garden", after a former owner named ma wenqin.
Kezhiyuan is located in xijin street in the north of Zhujiajiao water town, with beautiful scenery and quiet environment. It is mainly composed of three parts, including a hall area, a rockery area and a garden area. In the rockery area, there is a magnificent symbolic building — a four-sided five-story building topped by a diameter pavilion named "moon pavilion". "This building is considered the tallest building in Zhujiajiao.
The attractions listed here are only part of the water town of Zhujiajiao. Ancient narrow lanes, strange stone anchor chains, ancient houses, let people linger.
Facebook Comments