China National Tea Museum is a museum of tea culture, located in shuangfeng village, longjing road, hangzhou city, zhejiang province. The China tea museum has a floor area of 7,600 square meters and an exhibition area of 2,244 square meters.
Being the only one museum themed with tea and tea culture in China mainland, China National Tea Museum is especially worth for a visit to have a taste of China's profound tea culture and long history that have been lasting for at least 4700 years. Furthermore, China National Tea Museum offers a great chance to learn about the tea art with a firsthand experience, and that may be the reason that many G20 Leaders' wives have paid a visit to this museum on their Hangzhou tour in September 2016.
To well exhibit the culture and history of tea, China National Tea Museum sets 5 halls within the Building 1.
In the Tea History Hall, Tea is one of China's important contributions to mankind and world civilization. China is the origin of tea trees, is the first to discover and use tea. Tea industry and tea culture started from the drinking of tea. For thousands of years, tea culture has been enriched and developed in the long history of China's national culture and become the treasure of Oriental traditional culture. Modern tea culture has enriched world culture with its unique style.
Today, tea, as a worldwide beverage, sustains the profound feelings of the Chinese people and people all over the world.
In the Tea Collection Hall, China has a long history of tea production and a vast tea producing area. In the long life practice, Chinese tea people have accumulated rich experience in tea production. After thousands of years of development, a wide variety of different types of famous tea. As a result, tea people often say, "tea is never too old to learn. And the refinement of the method, the excellent quality, the excellent flavor is amazing.
In the Tea Information Hall , China has a vast territory, a long history and a large number of ethnic groups. At every historical stage and in every region, tea customs are an important part of Chinese culture.
In the Tea Sets Hall , you can admire the diverse sorts of tea sets in different periods in China. Teapots, teacups, tea containers, teaspoons and so on that are made of gold, silver, copper, jade, ivory, etc. from the Neolithic period to the modern times are so delicate in different shapes, giving a chance to know about the change of their looks and functions.
Tea Custom Hall exhibits the customs and manners of tea tasting in Chinese provinces, like Yunnan, Sichuan, Tibet, Fujiang, Guangdong, and shows the wonderful tea culture in China by imitating the lively scene of tea making and drinking.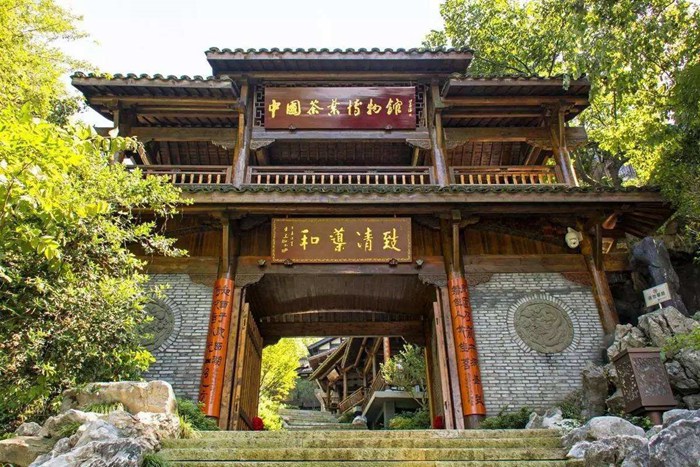 Facebook Comments