Yuyuan market, located outside yuyuan garden, is located in the center of old Shanghai, close to the old chenghuang temple. There are many traditional Chinese buildings that are now used as commercial stores to sell local products, snacks, jewelry, souvenirs, antiques and so on.
There are a variety of shops inside the market, and tourists can meet all kinds of needs. They can enjoy traditional Chinese architecture, taste local snacks, and buy antiques and silk products as gifts for friends or relatives. The market is well worth a visit when the bright lights at night give a pleasant atmosphere.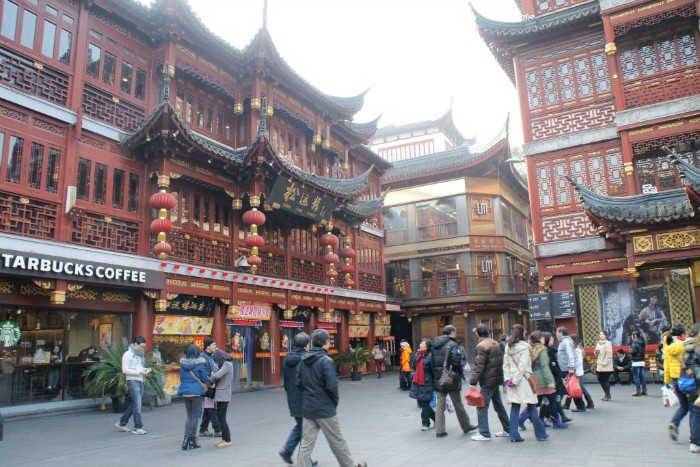 The market offers tourists the best local food. Nanxiang steamed buns  are known for their unique ingredients and are known as the best steamed buns in China. Another famous restaurant is lyublang, where crab buns, crab tofu and shortbread are the most popular dishes. Many world-famous politicians and tourists have come here, such as former US President Bill Clinton. Visitors can also sample some local snacks, such as yangchun noodles, Fried steamed buns, crab cakes and rice cakes.
There are many small lanes in the market, and the lanes are full of shops. Yuyuan street, located to the north of yuyuan market, sells a variety of traditional Chinese products. These products include household items, handicrafts and holiday items. In addition, yuyuan fashion street is completely different from the old street. It mainly supplies daily necessities, modern handicrafts, leisure food and coffee drinks. Besides, the gold and jewelry industry is very prosperous in this area, so tourists can also buy gold earrings, necklaces or rings. Both locals and tourists strongly recommend Shanghai old temple gold store and Shanghai ya yi gold store.
When night falls, visitors have ample opportunity to take some beautiful photos at the jade rock market. All the old buildings are decorated and illuminated with colorful lights. Their beautiful reflections on the clear water in front of yuyuan garden are definitely worth a look. The natural combination of modern light and ancient architecture is another beautiful sight.
Facebook Comments