Luodai Ancient Town, is the main scenic spot of "two lakes & one mountain". Luodai is referred to as National Key Town, National 4A Scenic Spot, Chengdu Key Protection Town, and Provincial Historic & Cultural Town in that it enjoys abundant tourist culture resources. With a large amount of Hakka, it is praised as "World's Luodai and Eternal Hakka" and The Hakka Town in West China.
Entering luodai ancient town is like opening an interesting antique book. There are endless cobblestones, old buildings, traditional snacks and street food. There are four Guild Hall situated in Luodai, which represent Guangdong, Jiangxi, Hunan and Hubei provinces, Northern Sichuan respectively.
Guangdong Guild Hall is the most complete and largest Guild Hall in the history of Guangdong. You can see some couplets hanging on the stone pillars. They all create a nostalgic atmosphere. The golden roof of the Canton hall stands in stark contrast to the grey or back tiles of other buildings.
Jiangxi Guild Hall was built in the late qing dynasty. Covering an area of about 10 square meters, it shows the delicate and warm appearance of the delta. In the small stage of Jiangxi Guild Hall, many seats are arranged for the audience to watch the performance. Sometimes the audience would participate and perform on the stage, so this was the earliest KTV in China.
Huguang hall (Hunan, Hubei hall) facing south, composed of stage, second tower, music tower, front hall, back hall along the axis. Here is dedicated to the famous water control da yu, so the Huguang hall is also known as "Yu palace". Locals believe the town was kept away from the flood because da yu was protecting them. At the Huguang museum, you can visit the Hakka museum for free and learn about the history of the hakka people.
North Sichuan hall from Chengdu Wolongqiao street moved here. It has witnessed the development of immigrant culture in north Sichuan. Now the north Sichuan hall is a cultural relic protection unit, closed to the public.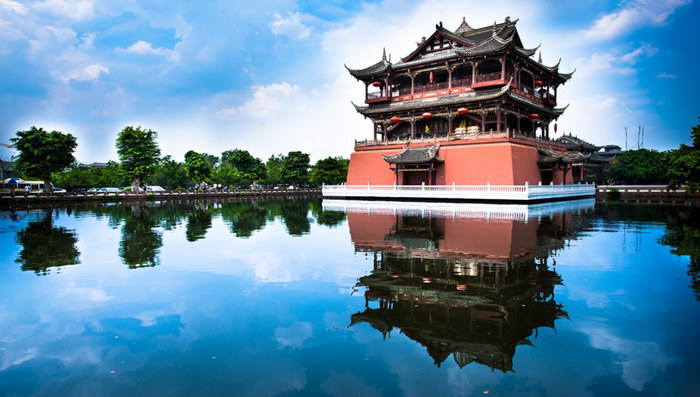 Facebook Comments