Eid is the most important festival for the Hui people.
Eid al-fitr was started by Islam's prophet Muhammad. In the beginning of Islam, according to islamic scripture, Muhammad took a bath after Ramadan, then put on clean clothes and led muslims outside to the ceremony at aurefield and Sadaqa al-fitr to atone for their SINS. In 623, Muhammad, the founder of Islam, decreed that healthy adults should fast for a month each September, known as Ramadan. Eat before sunrise every day until after the night is over. The beginning and end of Ramadan are determined by the new moon.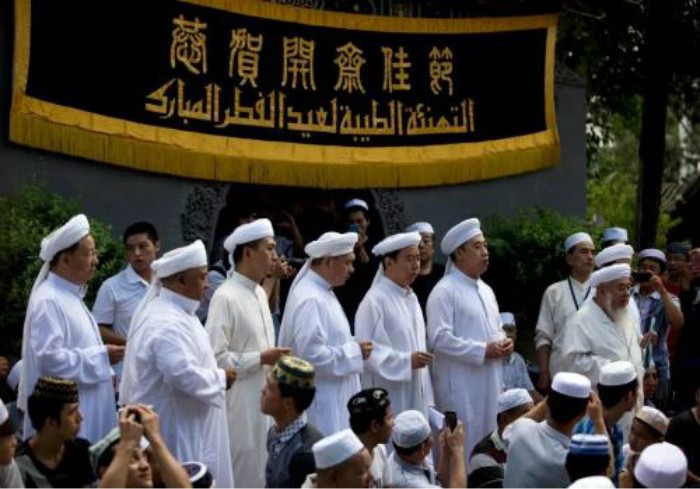 The purpose of fasting is to cultivate a strong will, integrity and religious spirit, and even a hardy character. Develop a charitable, helpful personality, and can prevent and cure disease.
Before the festival, each family member delivers "Ramadan meals" to the poor, paints houses, cleans courtyards and decorates mosques. At the same time, prepare festival food, Fried oil, sangza, kill the sheep kill the chicken.
During the first few hours of the festival, men take showers, dress in festive costumes, and then gather at the mosque, holding incense sticks for a grand service. After that, they greet the imam and then they greet each other. At the end of the ceremony, the imam may lead the group to sweep the tomb, or each family may sweep the tomb individually, and pray for the dead. Later, the lively festival activities began.
People wear national costumes, visit relatives and friends, all people regardless of age and gender come out to play together, all kinds of entertainment places open at the same time. In southern xinjiang, there are also comments, mostly religious stories.
Generally speaking, middle-aged women wait for guests at home. Young couples and unmarried people should receive gifts on the first or second day of the festival and pay respects to their in-laws. Many young people also get married on holidays. During the festival, hui children will pay their respects to their elders and the whole family will eat "noodles in soup".
Kazak, tajik, kirgiz and other ethnic minorities also have sheep scrambling, horse racing, archery and other activities. Horses are also different during festivals. The horse was covered with red cloth, and several tufts of pheasant hair were covered with red silk over the mane and tail. The saddles and straps of the hats were covered with ornaments.
Facebook Comments