Diao Chan, One of the Four Beauties in Ancient China
Diao Chan (c. third century, Three Kingdoms period), said to have "a face that would make the full moon hide behind the clouds".Diao Chan is a singer of Wang Yun in the Eastern Han Dynasty,and she has beautiful appearance.When Eastern Han Dynasty manipulated by the traitor Dong Zhuo, she pray to God for helping her master Wang Yun. Wang Yun secretly promised Diao Chan to Lv Bu,but then to Dong Zhuo.Lv Bu was very young and handsome at that time,andDong Zhuo was an old hand at trickery and deception person. In order to win over Lv Bu, Dong Zhuo recognized Lv Bu as a son.However,they are all lecherous. Since then, Diao Chan began to drive a wedge between Lv Bu and Dong Zhuo.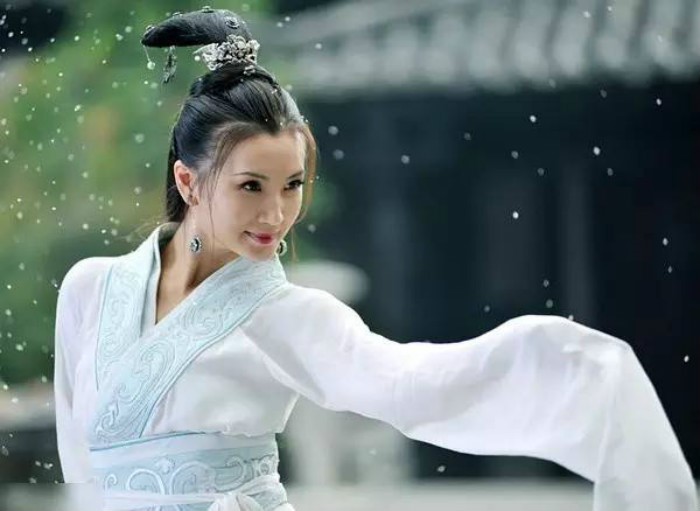 Lv Bu was very angry since Dong Zhuo married Diao Chao. One day, Lv Bu entered into Dong Zhuo's house secretly and invited Diao Chan to meet. Diao Chan cry to Lv Bu for what Dong Zhuo did. When Dong Zhuo returned home and caught Lv Bu,he was very angry and grabbed spear to kill Lv Bu.Fortunately, Lv Bu escaped from death.Since then,there was suspicion and even downright hatred between them.After that,Wang Yun sucessfully persuaded Lv Bu to kill Dong Zhuo.
It should be noted that no historical accounts mention a person named Diao Chan. Moreover, "Diao" is not a common Chinese last name.
In "romance of The Three Kingdoms", sable cicada is due to ten often wait on the chaos, refuge out of the palace, for the king permitted to take as a singer. The sable cicada sees the eastern han dynasty is manipulated by the treacherous courtier dong zhuo, in the month under the incense pray to heaven, wish to worry for the master. It happened to be seen by wang yun. Then, wang yun accepts sable cicada for adoptive daughter, set a chain of beautiful person plan, the relation that separates dong zhuo and foster son lv bu. Wang yun first betrogged diao chan to lu bu secretly, and then offered her to dong zhuo to be his concubine. Sable cicada married dong zhuo after lv bu ambiguous affection, deal between father and son two people.
In the 19th "cao cao fought in heavy combat in xiapis city, and lu bu died in the white gate tower", lu bu was besieged by cao cao's army, but diao cicada refused to break out of the siege by her husband alone, saying that they would "live together if they live together, and if they die, they will stay together until they die". Lv bu was deeply moved and gave up Chen gong's clever plan. He only made merry with sable cicada every day, ignoring the war at the front. He was finally captured and killed.
Facebook Comments